---
Unlucky 2nd Inning haunts Giants as offensive goes cold
Written by Sam Pasco on May 11, 2019
Pregame Preview:
Our very own Sam Pasco of @PascosPerspctve is out at @OracleParkSF TONIGHT covering the #SFGiants!

For more exclusive coverage of all things Giants, keep it here on #KXSF 102.5 FM 📻 🔊🌉 pic.twitter.com/CdWjCIK6yB

— KXSF 102.5 FM (@KXSFradio) May 11, 2019
Game Summary:
It really wasn't that bad for most the game. While the final score of 7-0 looks bad, the Giants were within striking distance for the majority of the game. After a quick inning in the 1st, Dereck Rodriguez had a nightmarish second inning which put the Giants in a hole that they could just not get out of. The inning wasn't Rodriguez's fault, but just overall bad luck on the part of the defense. In that inning, there were a total of 3 balls in play that could have been turned into outs, but instead, they turned into an error-single, triple and double. The flyball to dead center (which if caught would have ended the inning with only 1 run) unluckily popped out of Steven Duggar's glove and turned into a 2-run triple: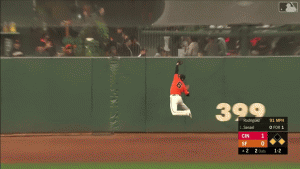 https://giphy.com/gifs/lSVUYN0DVecn12RA2E/html
Even after the unlucky 2nd inning, Rodriguez went on to throw 5 innings with a grand total of 0 earned runs. While the 4 run 2nd didn't help morale, the bats were never able to convert and score with men on base. The two "table-setters" – Joe Panik and Stephen Vogt – got on base a total of 8 times, but the rest of the lineup could just not find a way to score them. The first inning looked promising, when both Panik and Vogt walked with no outs, but ultimately no runs could be scored. Not even the Hittrax system the Giants have in their batting cages could not prevent the G-men's lackluster offensive woes during this game.
On the Reds side, Luis Castillo looked dominant (6 IP, 2 H, 11Ks) after the first inning – where he walked both batters (as mentioned above). Joey Votto finished the game with 2 walks against Dereck Rodriguez: Votto has walked in 16.0% of his PA's against starting pitchers since the 2017 season – which is third highest in MLB and almost double the league average (8.8%).
Notable:
Kicking and Screaming — There were several moments during the game where the crowd would confidently cheer and shout – but it wasn't for the Giants, but actually for the Warriors who defeated the Rockets 118-113 in Houston without Kevin Durant
Second base action — Between the two teams, there were 9 different times where a player grounded out to second base.
Buster who? — Stephen Vogt's 3 hit performance made Giants fans feel a little better that Buster Posey is currently on the injured list. Vogt also showed a lot of hustle: he sprinted down the line to secure a single in the third and fought off a 97 mph pitch in the 9th inning against Wandy Peralta
Quick Stat Fact:
Seeing Double? — Heading into this game, the Reds were 5-5 in their last ten games 10 -10 in their last twenty games; while the Giants were 5-5 in last ten and 9-11 in last twenty.
GIF of the Game: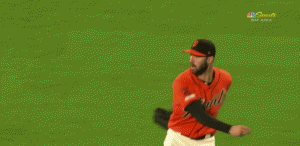 Live Tweets:
@kxsfradio Instagram Photos: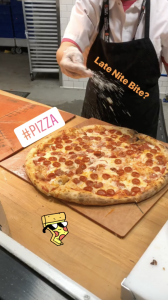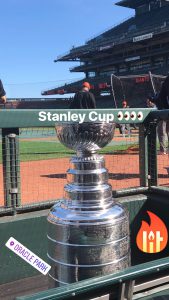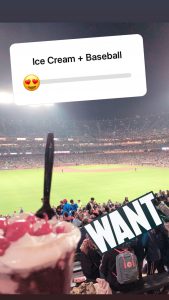 ---