---
After a one year hiatus, Treasure Island Music Festival back in the Bay Area. Instead of taking place at the iconic place where the festival started in 2007, TIMF will take place at the Middle Harbor Shoreline Park in Oakland, just across the Bay Bridge on Saturday October 13th and Sunday October 14th.
Even though the location is different the essence of the festival seems to have stayed the same; great rock and roll, alternative, electronica and hip hop acts for a Bay Area audience that is always eager of witnessing great quality acts.
The headliners for this year are pretty good: Tame Impala and A$AP Rocky. But the lineup doesn't stop there as it includes great names like Courtney Barnett, Sharon Van Etten, Cigarettes After Sex, U.S. Girls, Soccer Mommy, Santigold, Jungle, and of course, one of KXSF's favorite bands of this 2018, British post-punk quintet, Shame.
There will be food from various vendors as well as activities and art installations by Barry Crawford, Chromaforms, Peter Hazel, and Robert Boze.
By Guillermo Goyri.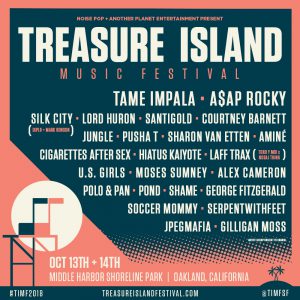 ---