Online
Click on "Donate Now" throughout our website @ KXSF.FM, and contribute via PayPal or Credit/Debit Card  (monthly payments optional)
By Check
Make checks payable to San Francisco Community Radio
Mail to:  SF Community Radio, PO Box 1700697, San Francisco, CA  94117
Other Ways to Support KXSF
Become a KXSF Underwriter!
https://www.kxsf.fm/underwriting
There is no time like the present and the present is nigh!! Especially now we can promote you even more on FM radio!
Amazon Smile

Choose SFCR-San Francisco Community Radio as your beneficiary
Sports Basement – Basementeer Membership 
https://shop.sportsbasement.com/products/basementeer-membership-1#bteers-beneficiaries
Shop at Sports Basement as a Basementeer (member) + choose KXSF/SFCR as your beneficiary
Community Thrift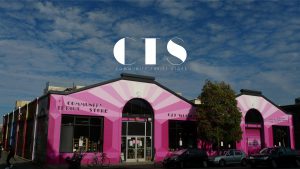 http://www.communitythriftsf.org/
When donating you can select SF Community Radio to benefit from the sale of your items
Donate your Vehicle ~ Make a Difference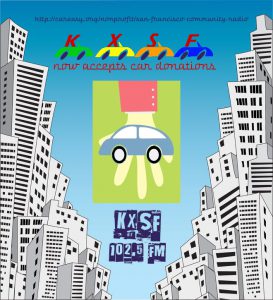 https://careasy.org/nonprofit/san-francisco-community-radio
Pick-up of your vehicle donation, at no cost to you!