Fill up your souls with raging music. These thunderous sounds will sooth your discomfort and the demons will go away at least for a couple hours, we can guarantee that.
Rock Neto, today from 1 to 4pm at KXSF 102.5fm is San Francisco and streaming worldwide through kxsf.fm.
Panque Jimenez will call us from Columbia University,
Michelle Plascencia will call from Mexico City. We'll talk great films.
New Music. Great rock and roll. Carry on.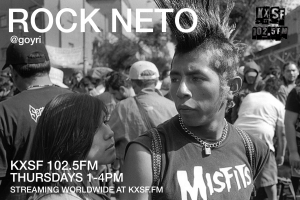 ---